Laboratory of Didactics of Physics and Educational Technology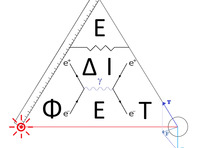 The aim of the Laboratory of Didactics of Physics and Educational Technology (DiPhET), is the application of best practices according to the state of the art in the subjects of Teaching of Physics and Educational Technology, contribute to them through research and their utilization for the benefit of the students of the department (at undergraduate and postgraduate level) and for the professional development of in-service educators.
The Laboratory of Didactics of Physics and Educational Technology (DiPhET). has as mission:
To provide courses at undergraduate and postgraduate level on the subject of physics education and meet the research needs of the department and other departments of the university in matters that fall within the aims of the laboratory and are part of the study program.
To provide courses and coordination for the issuance of the Certificate of Pedagogical and Teaching Adequacy of the Department of Physics.
To train future teachers in the subjects covered by the Laboratory and provisioned by law.
The coordination of the research of its members, in the fields of teaching of physics and educational technology.
The cooperation with research centers and academic institutions at home and abroad on common or complimentary objectives.
The organization of scientific lectures, workshops, seminars, symposia, conferences and other scientific events, of publications and the invitation of Greek and/or recognized scientists from abroad.
The provision of services in accordance with the provisions of P.D. 159/1984 (Government Gazette53 / t.A '/ 27-4-1984): Conditions for the provision of services by the university laboratories to individuals and all legal organizations.
The provision of opinions (experts in courts, etc.) on issues related to its expertise in accordance with current legislation.
The collection, processing, storage and disposal of scientific data.
The undertaking of consulting or projects and studies to meet the needs of society.
The publication of scientific journals.
Research Directions
The fields in which the Laboratory is mainly active include the following scientific objects:
The study of the processes in school classrooms and the modeling of didactic activities in field of natural sciences.
The development of didactic learning sequences based on inquiry learning and their application for the teaching of Physics and related areas such as Materials Science.
The study and development of modern forms of educational technology, such as virtual laboratories, simulations, synchronous recording experiments and remote experiments.
Distance education and the development of online content for the teaching of physics.
The laboratory aims to develop activities such as
the design and development of teaching aids as well as their implementation in collaborating educational institutions and
the production, integration in teaching scenarios and evaluation of audiovisual and multimedia teacher material for all levels of education as well as the connection with educational institutions, with scientific bodies and with economic bodies that are active in the field of production of educational material.
Founded: Issue B '4142 / 22.12.2016 GOVERNMENT GAZETTE 40787
DIRECTOR
Euripides Hatzikraniotis
MEMBERS
RESEARCH ACTIVITY