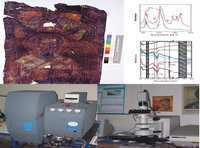 Use of FTIR - UV/VIS in combination with thermal analysis methods to solve problems of technological materials

Α) High technology materials:
Narrow gap semiconductors, laminate compounds, γ and X-ray sensing materials, Sensors materials, Thermoelectric materials, Phase sensitive materials, Biodegradable polymers, Silicides, Phase sensitive materials, Optical data storage materials.
Β) Biomaterials:
Synthesis and Characterization of bioactive glass ceramics. Fabrication of composite materials with bioactive materials, Study of bioactivity in vitro, Cell-material interaction.
Γ) Cultural heritage materials:
Study and preservation of paintings and ceramics of cultural heritage.
Δ) Geological samples, (minerals, gemstones):
Mineral characterization, Classification of natural or artificial precious gemstones,Zeolithes, Oxides, Glass oxides, Glass waste materials.

The activities are held in collaboration with other institutes under the framework of national and international funding schemes.
RESEARCHERS