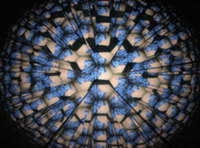 Activities:
Dynamics and Kinetics of disordered solid state systems and fractals.
Dynamics of neural networks and signal transfer.
Estimation of electronic and optical properties of conventional and novel semiconductor material with technological applicability.
Interface study (symmetry, energy and structure features) in polycrystalline materials with lattice model.
Study of crystallite triplets in polycrystalline materials.
Estimation of electronic and dynamic properties in crystals, amorphous materials, superlattices.
Properties and Critical phenomena in ionic crystals.
Lattice dynamics of crystalline solids (3D and 2D) using phenomenological models and first-principles calculations. Application of group theory for the interpretation of Raman and Infrared spectra.
Difussion modelling, random walk, complex systems, low-dimensional systems, fractals, trapping events. - Statistical Physics Methodology.
Equipment:
PC Lab with parallel processing. Consists of 32 PCs (Intel Core 2 Duo, 64 processors), Total RAM 128 Gb, Storage Space 6.7 Tb, Operating System Scientific Linux.
RESEARCHERS